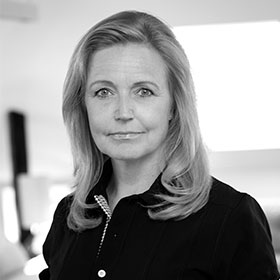 Elisabeth Thand Ringqvist
Chairman (since 2019)
Born: 1972
Principal education: M.Sc. Business and Economics, Stockholm School of Economics, and Stanford Executive Leadership Program, Stanford University.
Other current positions outside Storskogen: Chair of the board of directors of Nortical AB, Aktiebolaget Utö Havsbad, E14 Invest AB and E14 Invest II AB. Board member of Peak Region AB, Marsnen AB, Åre Corporate Finance AB and Åre Corporate Finance II AB. Deputy board member of Aquity Nordic AB. Chair of Vaccine Forward and Skärgårdsstiftelsen. Deputy chair of Center-partiet Stockholm.
Previous positions outside Storskogen: Consultant McKinsey, Political Advisor to the Minister, Department of Industry and Trade, CEO Företagarna, business angel and investor.
Shareholding in Storskogen: 243,000 B-shares (through a company).
Independence pursuant to the Swedish Corporate Governance Code: Independent in relation to the Company, the executive management and the Company's major shareholders.